Apricot & Lavender Pizza
S
ummer is winding down….not according to the temperatures…., but calendar says so….I gotta believe it.
I was hoping to deal with many things over the summer…the most important one….getting my boys well mentally to start school on a happy note…
Hormone Boy is doing pretty well mentally, but still worries me health-wise.
Twitch is a different story….he is nowhere near being well mentally or physically…..

Friday I finally took him for brain & spine MRI…..after waiting for 6 months….so now I am patiently waiting for the results….whatever they may be.
His panic attacks are getting bigger & bigger….he went from three or less a day to seven & more.They are so draining on him.
So when Twitch asked me for a
PIZZA PARTY
over the weekend I was happy to oblige.
He made it clear that he wants….the "real' pizza from his favorite PIZZA Place , but I was suppose to make desserts….
I wanted the dessert match the theme so I started thinking FRUIT PIZZA……
….most of fruit pizzas use sugar cookie crust & top it with fresh fruit after baking…..honestly I am not a big fan….
….so I started with pizza crust….my trusty breadmaker made me fresh pizza dough while I got everything else ready….
My fridge is still full of apricots from my mom's tree…..& I was itching to try my newly aquired….Organic LAVENDER Sugar…..
I mixed….I matched….I stretched….I baked…..


APRICOT & LAVENDER PIZZA
….and the hit of the party was born…..
Apricot & Lavender Pizza
PRINTABLE VERSION
Ingredients:
1 Basic Pizza Dough (enough for 14″ pizza crust)
4 oz Cream Cheese
3 Tbsp Sugar-Free Apricot Jam
10-15 Apricots
1/4 cup Lavender Sugar
STEP 1: Preheat oven to 425F
STEP 2: Stretch pizza dough onto 14″ pizza pan. Let it rise for 10 minutes.
STEP 3: Beat together cream cheese and apricot jam until creamy.
STEP 4: Split apricots into halves. Remove pits & slice into little moons.
STEP 5: Spread cream cheese mixture onto pizza dough. Arrange apricot on top.
STEP 6: Bake for 15-20 minutes or until the pizza dough is golden brown. Remove from oven and immediately sprinkle evenly with Lavender sugar.

STEP 7: Allow it to cool down for 5 minutes before slicing & serving.
I have to brag…..
APRICOT & LAVENDER PIZZA
was gone before the "real" pizza arrived…..
I don't think if there was a person that did not like my FRUIT PIZZA….and I will be making this again….
Apricot & Lavender Pizza
This recipe is linked to:
FOODIE FRIENDS FRIDAY
Foodie Friends Friday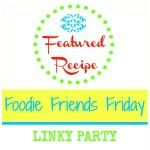 Don't forget….Keep Smiling….Keep Cooking!

Bibi's Culinary Journey