Cherry Pierogi (Čerešňové knedličky)
Believe it or not there are still cherries on some of the trees in my backyard…..at this point I just ignore them…
….I moved on….I moved onto APRICOTS….and not just because my mom is overrun by apricots this year and is threatening to disown me if I don't start doing something with the load….
….as good as reason is that I truly love Apricots….so expect few recipes popping up soon!
Before I leave CHERRIES behind I still owe you one recipe….recipe that I've been asked for numerous times….

….my CHERRY PIEROGY or Dumplings known in Slovakia as Čerešňové Knedličky
Yes, we are going back to my childhood and re-creating one of my very favorite recipes…..Sweet Cherry Dumpling served with Butter…..Sugar and Dry Cottage Cheese.
I wanted to make it little more interesting so I turned dumplings into pierogies …..and honestly….I like Cherry Pierogies much better then dumplings…. 
Cherry Pierogi (Čerešňové knedličky)

PRINTABLE VERSION

Ingredients:
2 cups Flour

11/2 cup Breadcrumbs

3 cups Cherries (pitted)

1/4 tsp Salt

1 cup Milk

1 Egg

Cinnamon Sugar

2 cups Dry Cottage Cheese (Farmer's cheese)

3 Tbsp Butter

1/3 cup Icing Sugar
STEP 1: Put breadcrumbs into bowl and pour hot milk over them. Let rest for 15 minutes.
STEP 2: Add flour, salt and egg into breadcrumb mixture. Work by hands into dough.
STEP 3: Place dough onto well floured surface and roll into 1/4″ thickens. Cut into squares.
STEP 4: Place 3-4 cherries onto each squares.Sprinkle with cinnamon sugar. Flip one corner to the other  and make a triangle. Pinch sides. Make pierogies.
STEP 5: In a boiling water cook cherry pierogies and cook until they float atop. Place into deep dish.
STEP 6: Melt butter. Pour melted butter, icing sugar and cottage cheese over cherry pierogie. Gently fold it around. Serve!
I might look and sound difficult, but there is nothing to it……little prep work and you will have
Cherry Pierogi
or
Čerešňové knedličky
on the table in 30-45 minutes….
You can use any kind of soft fruit….I will be making Apricot Pierogies next few days….I can pretty much guarantee that….
Cherry Pierogi (Čerešňové knedličky)
This recipe is linked to:
FOODIE FRIENDS FRIDAY
Foodie Friends Friday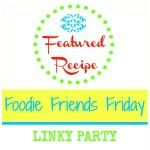 …..till next time….Keep Smiling….Keep Cooking….

Bibi's Culinary Journey