"Fun….exciting….low cost outdoor Country Style Birthday Party
complete with Southern Country Style menu….Chili….Fried Chicken…and more.
….and of course…2-tier Fondant Cowgirl Red Velvet Birthday Cake."




L
ast week my beautiful….smart….sweet…..talented daughter
from another mother
Caitlin turned 18….


….turning 18 in Eastern Europe is a big deal….something like turning "Sweet 16″ in North America….


…so of courser I couldn't let my oldest child turn 18 and move away to college

she's leaving this week

without a proper

SURPRISE PARTY

sendoff…


Caitlin is going through "country girl" stage right now so good ol' fashioned country

HOEDOWN

was in order….especially since she had no clue…..








Caitlin's biological mom (my best friend) was in charge of the guest list and making sure the word doesn't spread….


….I was in charge of the venue…..decorations…..food……&…..

COWGIRL BIRTHDAY CAKE

…..


The venue was easy….my country backyard….


Decorations….not a big deal when you live in a country & many of your friends have horses….






Food…..little bit of imagination….little bit of Pinterest

INSPIRATION

…..& menu was planned….



~ Homemade Mac 'n' Cheese ~

~ Southern Fried Chicken ~

~ Savory Corn Muffins ~

~ Chips & Salsa ~

~ Individual Apple Crisp with Vanilla Ice Cream & Caramel Sauce ~

~ Assorted Candy Sweet Table ~

&

~ COWGIRL BIRTHDAY CAKE ~

Well,……..Caitlin's birthday cake was little more difficult…..it took me 3 days just to decide on the design & details….

….I went with 10″ and 9″ – two tier cake – four layers each…..

Caitlin's favorite cake is

RED VELVET

with Cream Cheese FROSTING

….

Then I decided to go with fondant cake……I thought it will work better with my design as buttercream icing would….




First tier……Blue Jeans with Yellow Belt and large Belt Buckle with 18 in the middle…..

Second tier….Yellow Bandana with Paisley Print…..

……and I topped it of with little fondant

COWBOY HAT

…..




I finished all baking….decorating….cooking……with 10 minutes to spare…..yep….I was exhausted…..

…..the look on my daughter's face when she came around the corner….

PRICELESS

….it made my

week…






….Just Horsing Around….

This recipe is linked to:
FOODIE FRIENDS FRIDAY
Foodie Friends Friday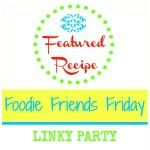 Don't forget….Keep Smiling….Keep Cooking!
Bibi's Culinary Journey