Bring on another week, I say…..Happy MONDAY, everyone!
Hope you all had relaxing…..fulfilling…..positive……energizing weekend and you are ready to embrace another fantastic week!
My weekend was amazing…..great time with family and friends….hanging in the kitchen with my kids……going on a date with my youngest…..throwing my sister the best surprise party….getting my yard ready for fall (please, come already)……getting meals ready for this week….
…..oh, yeah…..grounding my teenager for being mouthy & neglecting his chores and having him not talk to me for awhile as a result…..and why is this amazing, you ask?
…..because his silence means I am doing something right…..that's why!
Anyway, part of my "preparing meals for the week" ritual is also baking muffins….loaves….breads…..for quick snacks and light meals.
So this week……muffin of the week is……ZUCCHINI & PINEAPPLE MUFFIN…….
Ingredients:
1 cup Flour
1 cup Whole Wheat Flour
1/4 cup Bran
2 tsp Baking Powder
1/2 tsp Baking Soda
1 tsp Cinnamon
1/2 tsp Salt
1 Egg
1/4 cup Apple Sauce
1/2 cup Sugar
1/2 cup Crushed Pineapple
1 cup Zucchini (grated)
1/2 cup Buttermilk
1/2 Raisins or Chocolate Chips (optional)
STEP 1: Preheat oven to 400F. Line and grease 12 muffin cups.
STEP 2: In a large bowl mix together flour, whole wheat flour, baking powder, baking soda, bran, cinnamon and salt.
STEP 3: In another bowl beat egg until frothy and add apple sauce, sugar, pineapple, zucchini and buttermilk. Mix well.
STEP 4: Add wet ingredients into dry ingredients and gently fold only enough to combine everything and moisten.
STEP 5: Fill muffin cups 3/4 full.
STEP 6: Bake for 20-25 minutes. Allow muffins to cool for few minutes before removing them from a pan.
I am off to enjoy my Monday….I will write a little….clean a little….cook a little….make Sweet 16 Birthday Cake for my beautiful girl Sharna…..and then party a little with the ones I love the most…..
Make sure you stop by tomorrow cause you never know what you will find…..love you all!
Don't forget….Keep Smiling….Keep Cooking!
Today I am joining PINTASTIC MONDAY @ Sarah Dawn's Designs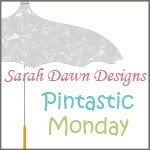 Bibi's Culinary Journey